Restaurant Caca
Our location - Omiš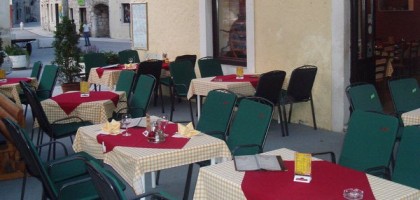 Restaurant "Ćaća" family restaurant in the old part of Omis is situated next to the River Cetina, is only ten meters after the bridge turn left, and only a minute, two of the city center, the central street Fošal and town squares that are popular summer tourist destination.
Nevertheless, the restaurant is located in the peaceful surroundings of the old town streets (streets), and the Cetina River, which during hot summer evenings hint & quot; dishes based on dealing with the " makes room in the "garden" restaurants Ćaća extremely pleasant.
Gastronomy of the Omiš Riviera belongs traditionally to the Mediterranean cuisine, meaning first of all handful of various meals made of tasteful fish, cheese, prosciutto (smoked ham) and various meat specialities.
Parking
Opposite the restaurant "Ćaća" our guests are guaranteed a parking space with 10 seats.